How to Increase Security at Your Small Business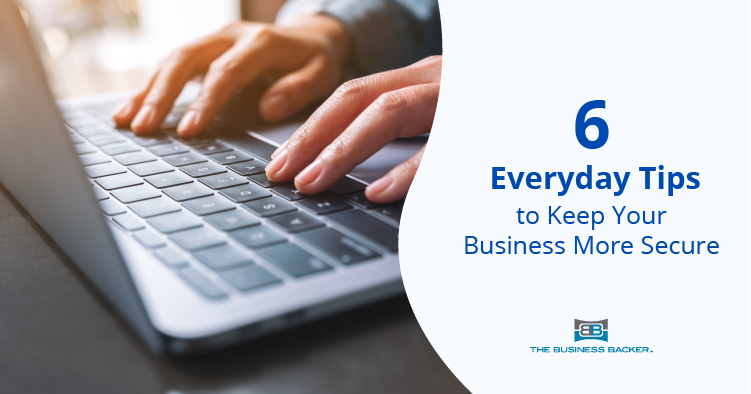 Whether you have a dedicated IT team, sell your products online or simply use a computer for work tasks, it's important to follow the latest security guidelines to help protect your data. Although security threats are ever changing, you can help safeguard information with a few solid tactics. Read these everyday tips we follow at The Business Backer to help keep your business more secure.
Follow Password Safety Best Practices
Weak passwords are one of the biggest security vulnerabilities when it comes to cyberattacks and account takeovers. In order to avoid password-related breaches, you may want to set up network guidelines to require a new password every couple of months, or talk to an IT professional to help set up password regulations for your work computers. Ideally, all computer users should regularly update all passwords used with a combination of letters, symbols and numbers. You can make managing passwords easier and more secure with the following technology:
Two-Factor Authorization: This option requires an additional step, like entering a code from a trusted device, to verify the identity of the user upon login.
Password Manager: You can use an encrypted password manager to securely store access passwords for multiple devices, services and software programs.
Limit Access to Sensitive Material
Whether you have physical or digital assets, aim to protect your capital by limiting access whenever possible. This may include restricting store keys, passwords or physical material to only those necessary. Ensure that any employees with access to data follow all security protocols. If you don't have official company-wide security guidelines, add well-defined procedures in your employee handbook, onboarding materials and written policy. You may also want to consider performing background checks for positions with certain responsibilities.
Update Your Software
 Outdated software is generally more vulnerable to security attacks. This can include both operating software for phones, laptops and computers, as well as individual apps and software products. You may want to consider turning on automatic software updates for the software and devices you use, whether you use it daily or not.
Use Security Tools
Advanced security software can help give you an additional layer of protection against online threats. Examples include antivirus, anti-malware, VPN and firewall software, but some options provide more comprehensive security protection in a single package:
Bitdefender Total Security: This software has a multi-layered approach to keep your data safe with malware, anti-phishing and VPN protection.
McAfee Small Business Security: Another choice for all-in-one security software, McAfee Small Business Security offers malware, virus and browsing protection for your company.
Norton Small Business: This software option gives business owners more freedom to choose the security coverage they need for individual devices.
Develop a Secure Data Storage Policy
If you collect customer information, it's important to securely store the data. In some instances, you may be legally required to securely store data for a certain amount of time. If you're unsure what data retention requirements you may legally be required to follow, check with your local, state and/or federal trade organization. You may also want to inquire about data storage policy recommendations for your specific industry and/or business.
Hard drives on copy machines, printers and other office equipment can contain an enormous amount of personal data. In order to safeguard personal data, it's important to clear out all information before discarding or recycling old devices, hard drives or equipment that can store records. You may need to research how to properly erase and/or store data to comply with specific laws, and ensure that any personal information is removed before discarding the equipment.
Educate Your Staff
Staff cooperation is crucial to maintain a secure and safe environment. If you don't already have a clear data security policy, outline the rules in accordance with all local regulations and industry requirements. Ensure that your staff complies with all regulations and best practices. Additionally, remind all employees to stay vigilant of common security threats, including:
Email phishing: This tactic involves sending a fraudulent email disguised as official correspondence in order to steal information like passwords, personal details, usernames, account numbers or other sensitive data. Never click on attachments or links from unknown senders.
Identity fraud: Business owners and companies can still fall prey to identity fraud. Stay vigilant of any potential attacks — they can come from text messages, phone calls, email phishing and other sources — and watch your business and personal credit reports for any fraudulent activity.
Use only encrypted and secure websites: Stay safe while you're browsing the internet by using only secured and encrypted websites. A padlock icon by the URL field on your browser denotes a secure connection.