Air New Zealand's Subpar 787 Business Class
To finish off my review trip, I flew Air New Zealand's Boeing 787-9 business class from Auckland (AKL) to Los Angeles (LAX), which I managed to book using Virgin Atlantic points. The experience was not great, which is kind of what I was expecting.
Air New Zealand's business class hard product is bad
Air New Zealand has first generation herringbone seats in business class, which are oh-so-outdated. These seats all face the aisle, and really provide no privacy.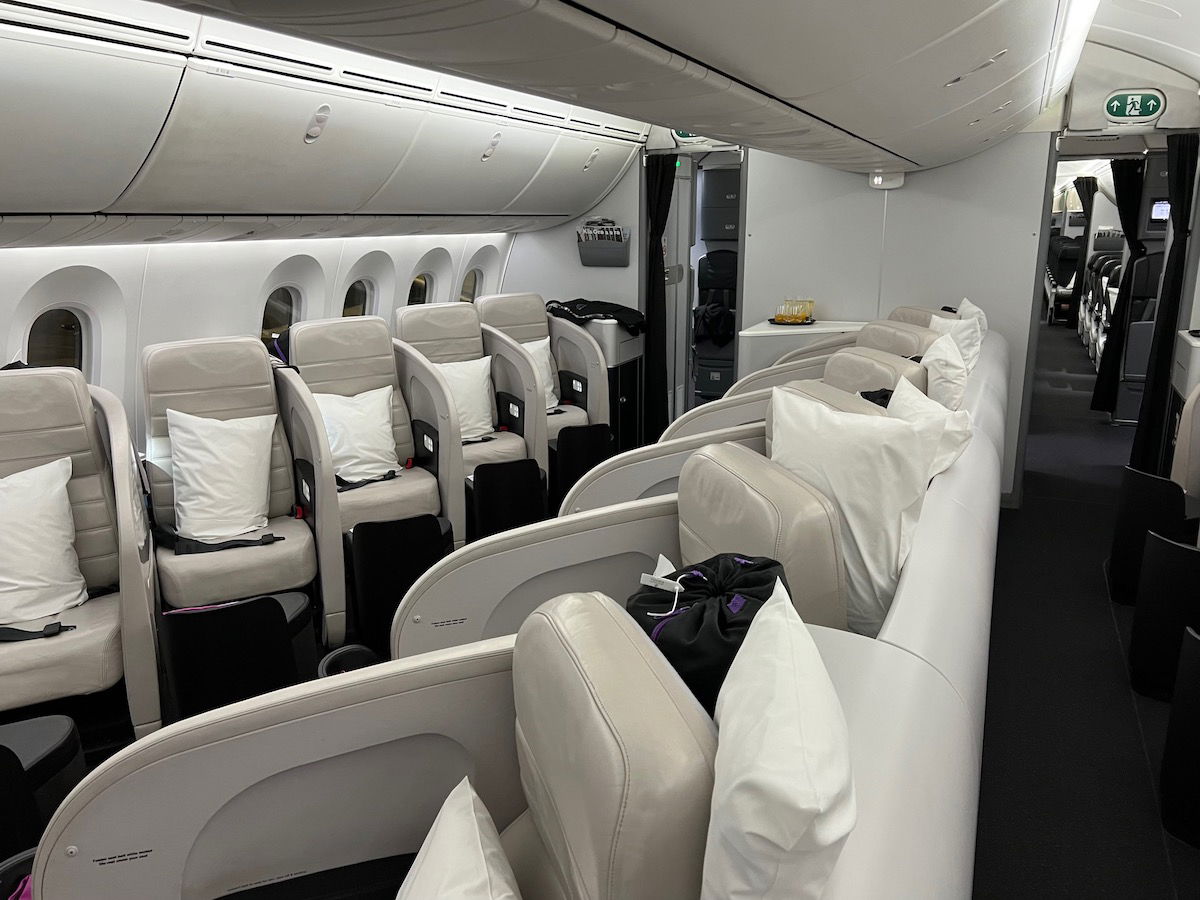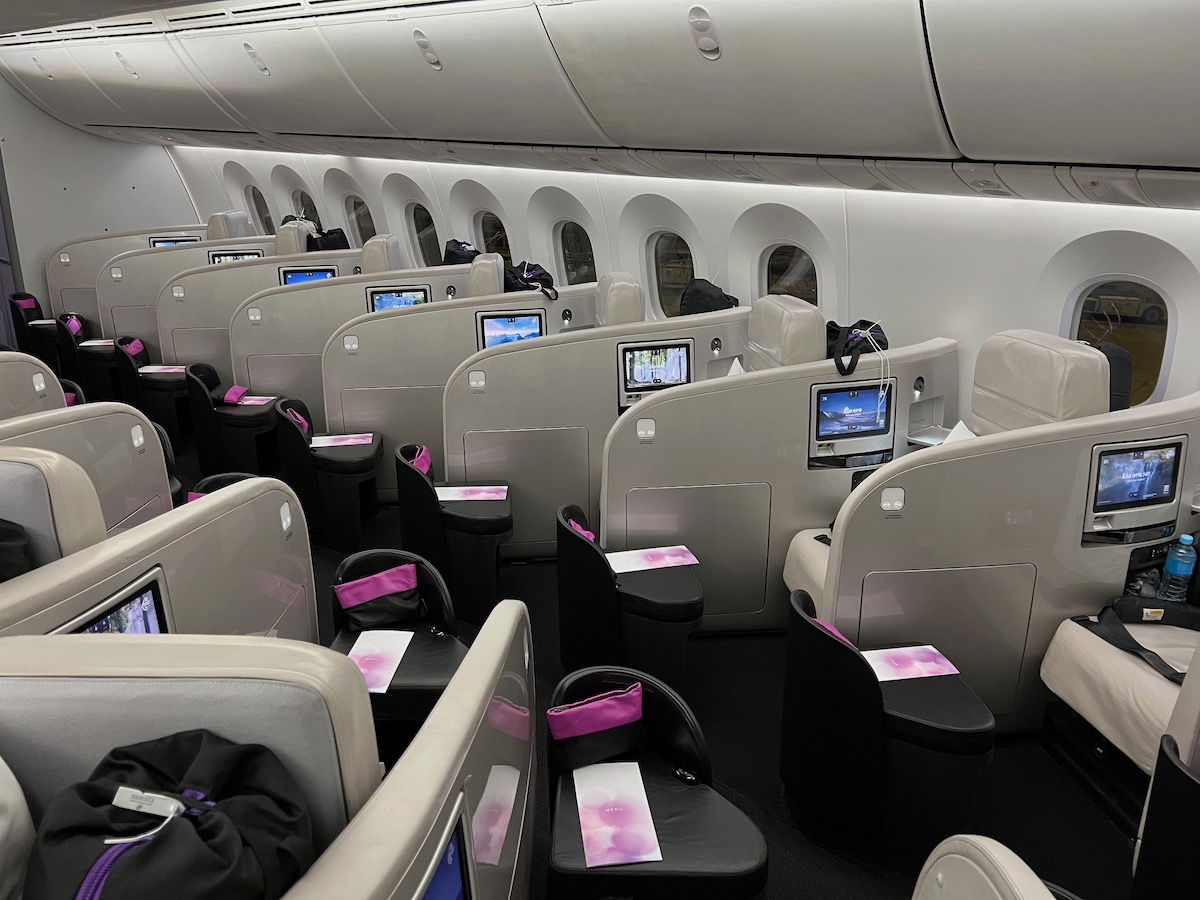 This flight was really a reminder of how far business class seats have otherwise come, and also of how I'm getting old(er). These seats were great in the early 2000s when other airlines primarily had angled seats on long haul flights, but nowadays these seats are simply uncompetitive.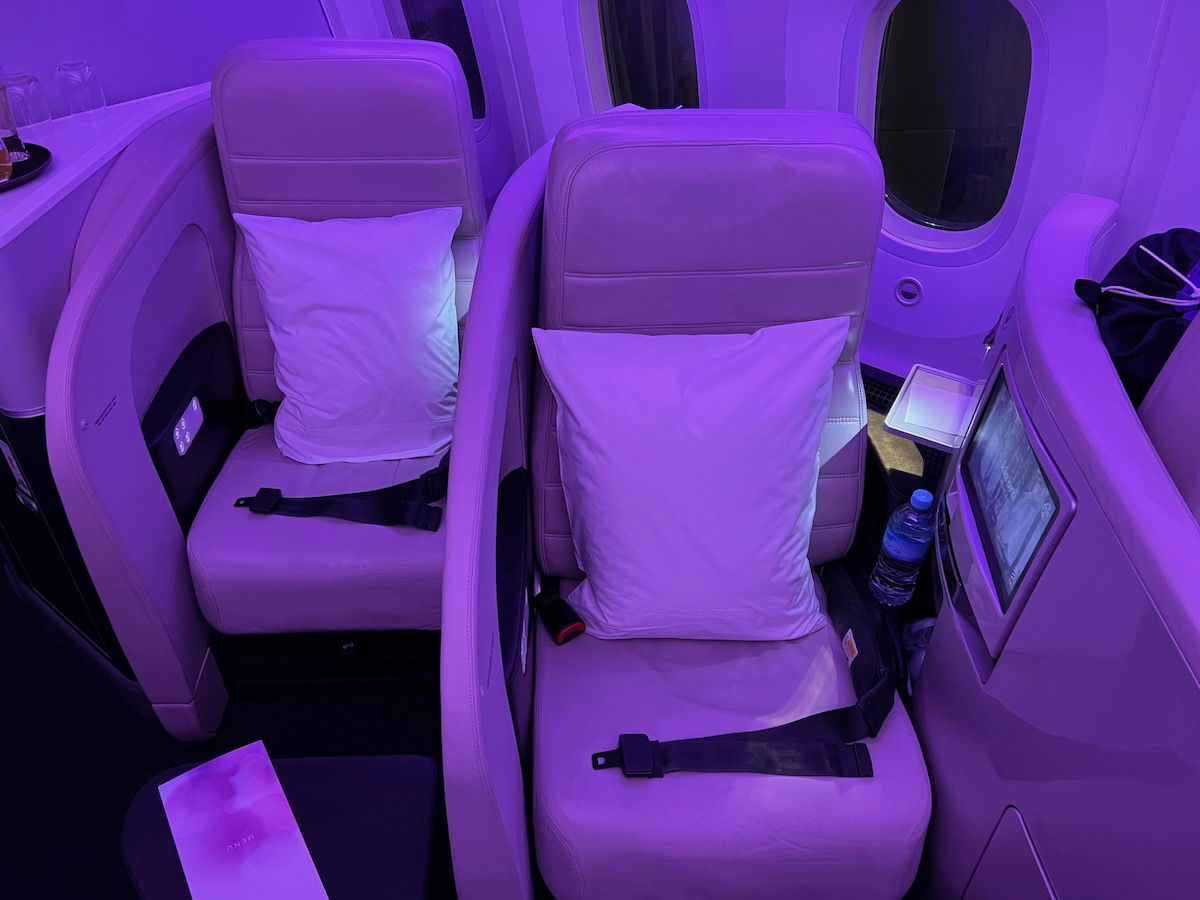 The seats have virtually no storage, it's so easy to accidentally knock things over, so many of the seat controls are poorly positioned, you'll pull some muscles you didn't know you had while trying to look out the window or plug something into an outlet, etc. Never mind that you can't easily get up during the meal service (when the tray is out), and extending the entertainment screen with something on your tray table is also no small task.
Speaking of the entertainment screen, it's 11″. While there are some contexts in which that number might impress, inflight entertainment screens in long haul business class isn't among them.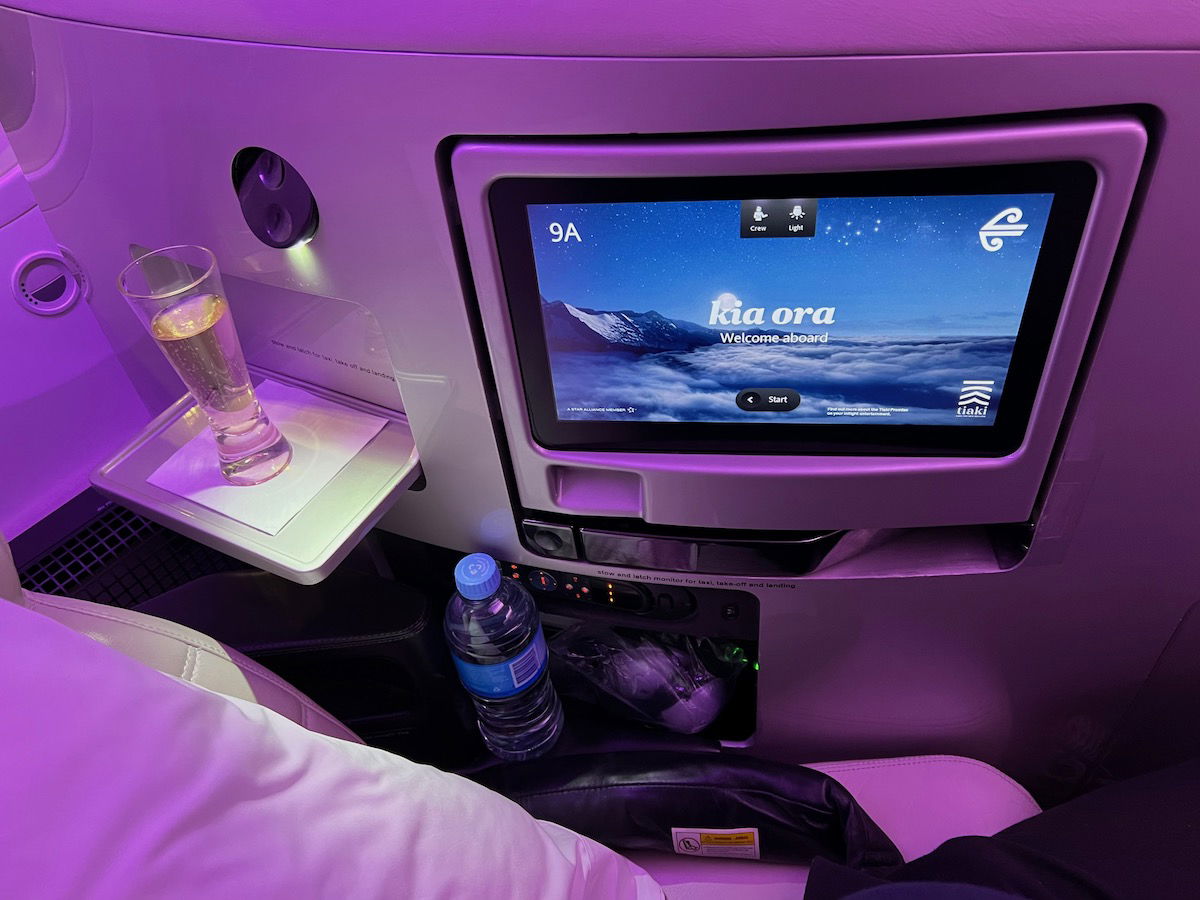 Never mind that my seat's ottoman just kind of came apart midflight, and couldn't be snapped back in place.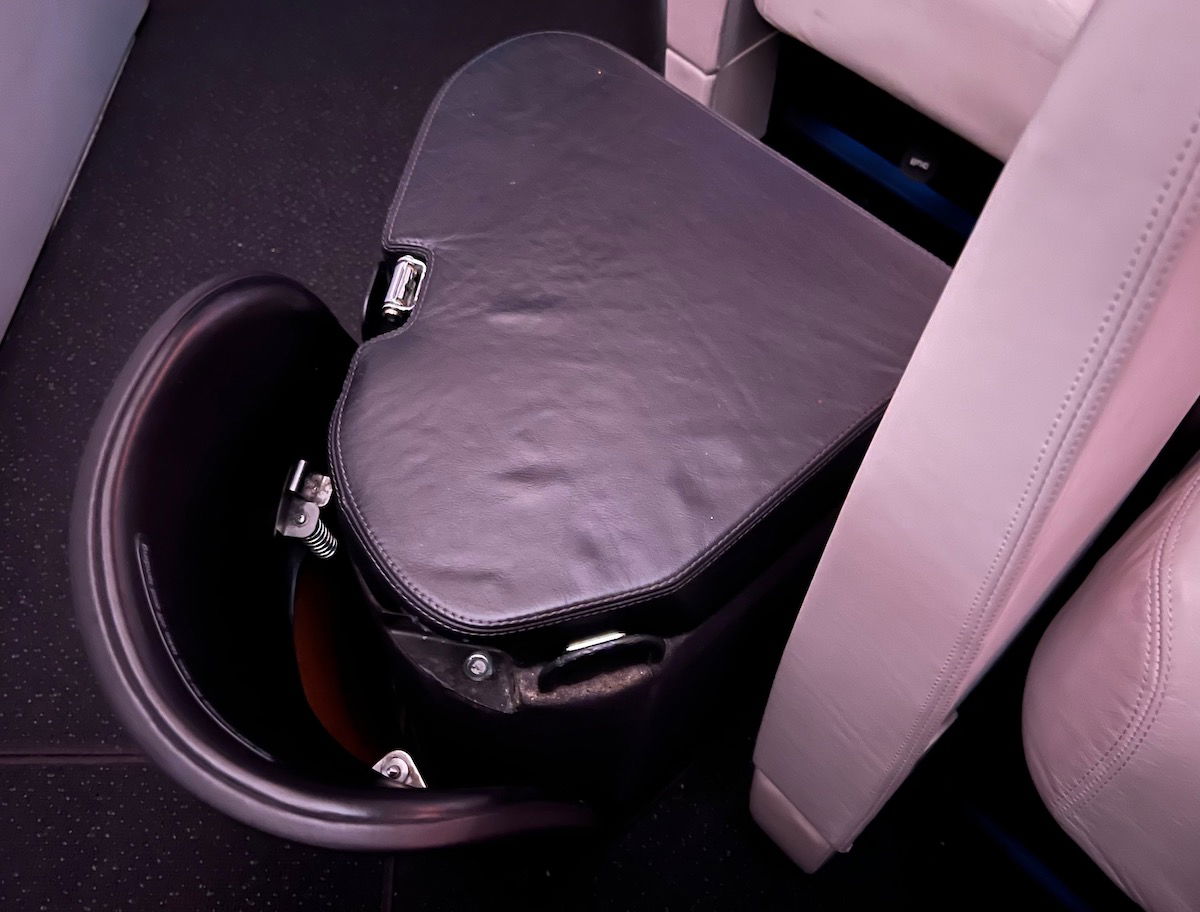 My flight also didn't have Wi-Fi. While Air New Zealand is progressively installing Wi-Fi on its Boeing 787 fleet, there's no way to know in advance if you'll get it, and the majority of the 787 fleet still doesn't have it.
What a disappointing product. In fairness, Air New Zealand will start to install a new business class product as of 2024. However, it'll likely be a long time before all long haul planes feature those seats, and on top of that it's not actually a very impressive- looking products.
Air New Zealand's business class soft product is decent
I'd say Air New Zealand's business class soft product is fairly good (but not amazing), with some elements that are above average, and others that are below average.
For example, there was a pretty basic amenity kit, but no slippers or pajamas.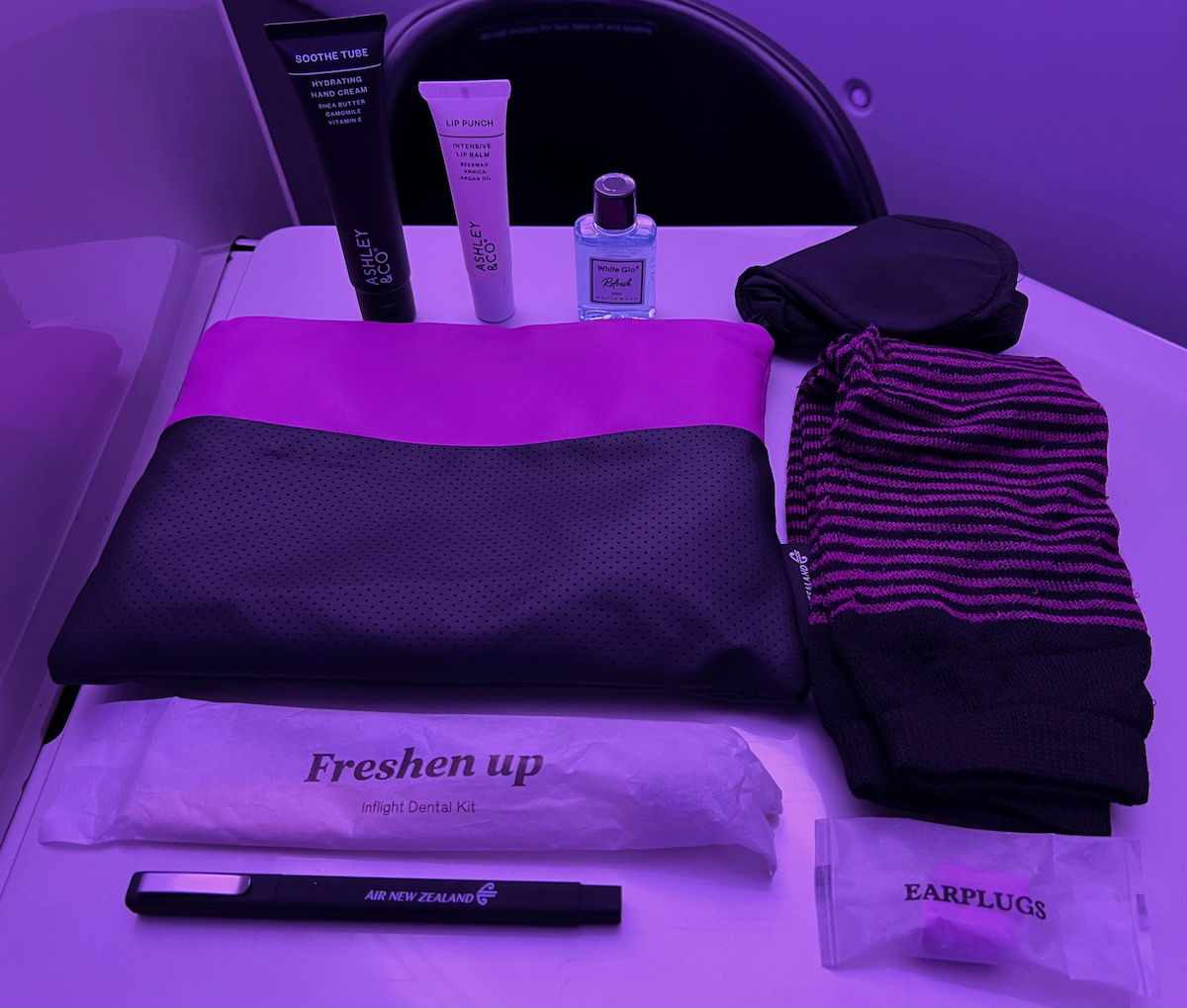 The noise canceling headphones were low quality and flimsy.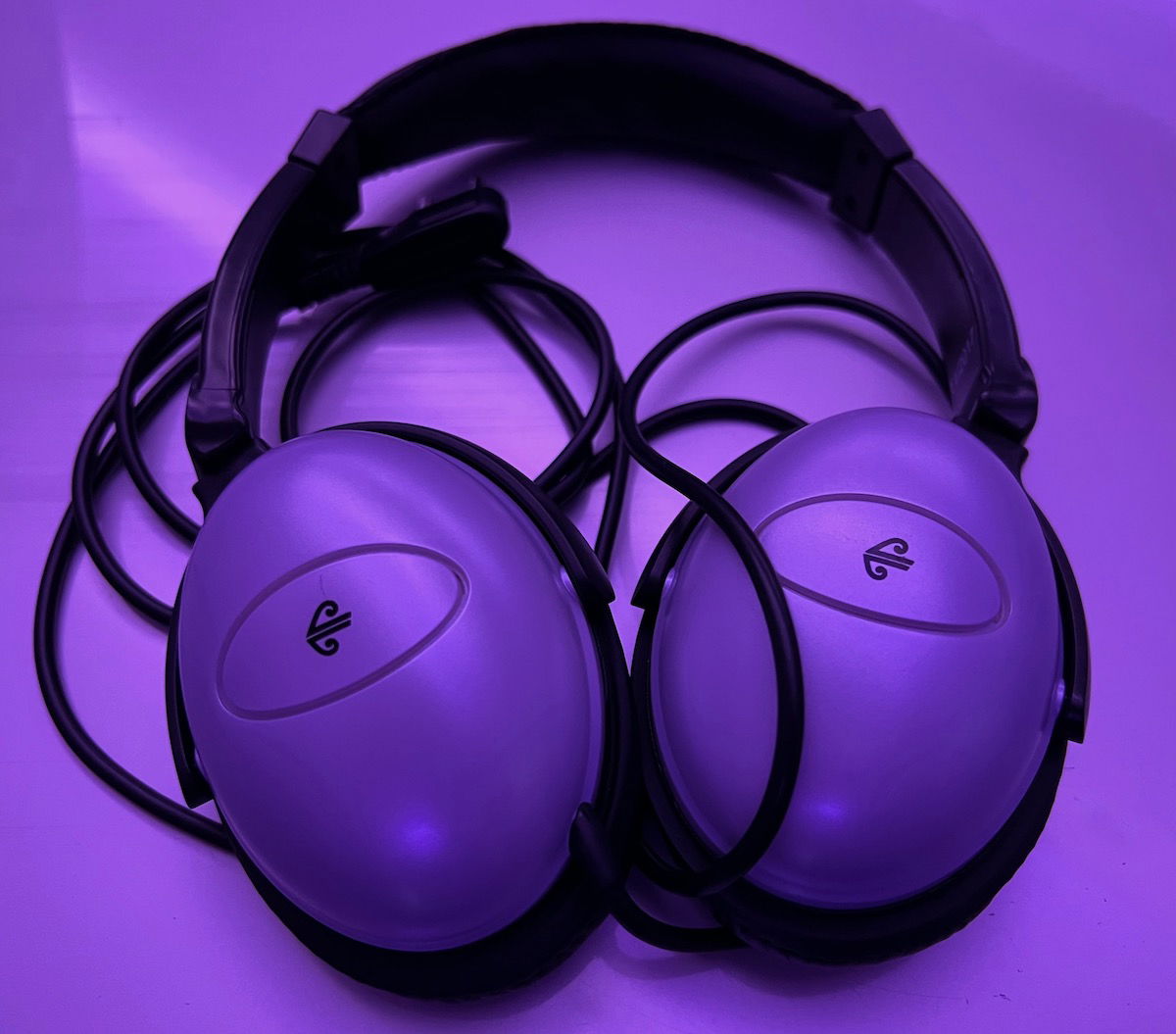 I'd say the meal service was fine, perhaps a bit above average? There was a nice selection of wines from New Zealand, so I enjoyed a sauvignon blanc with some cashews.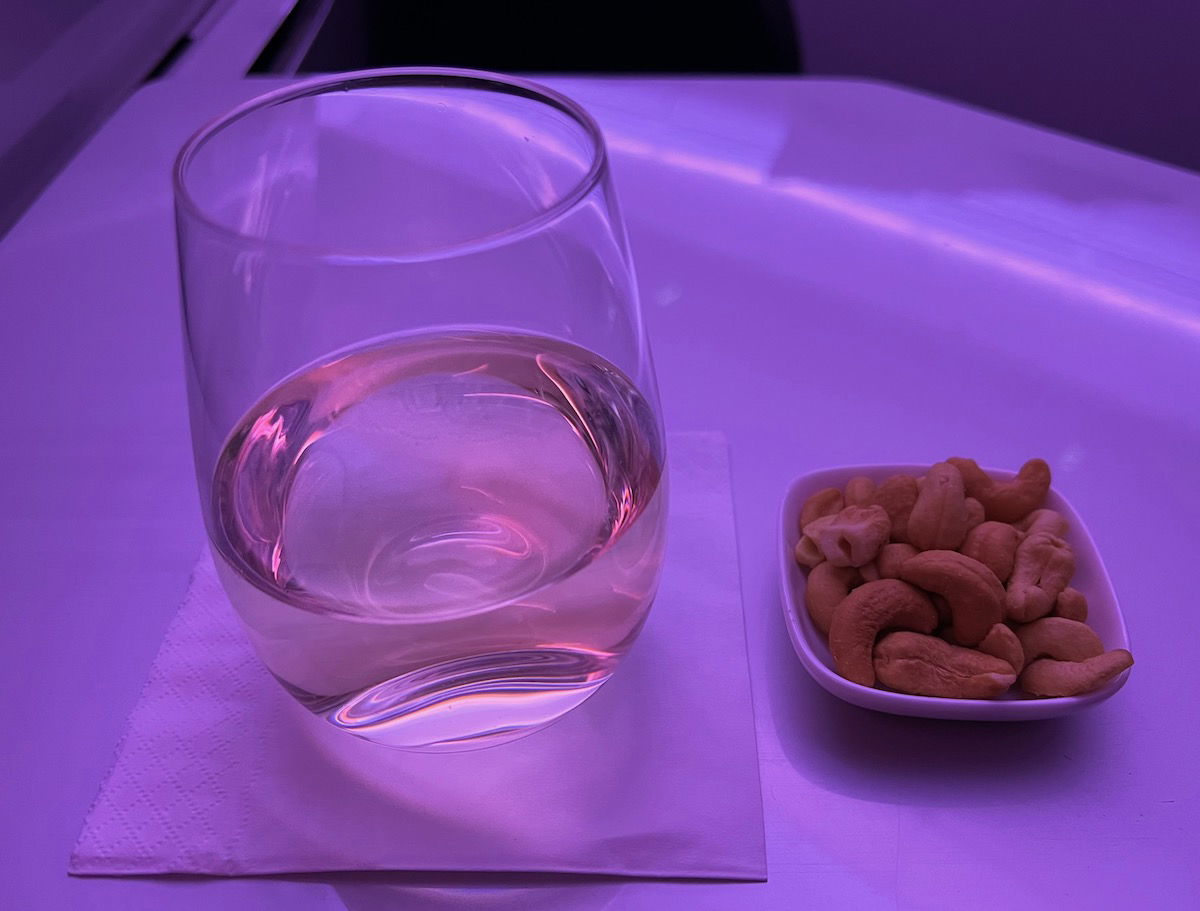 There was the choice of two starters, and I selected the smoked moki with fried capers, shaved fennel and orange salad, green olive salsa, and pine nuts. This was probably the best dish of the meal, and Air New Zealand also has a tasty bread selection.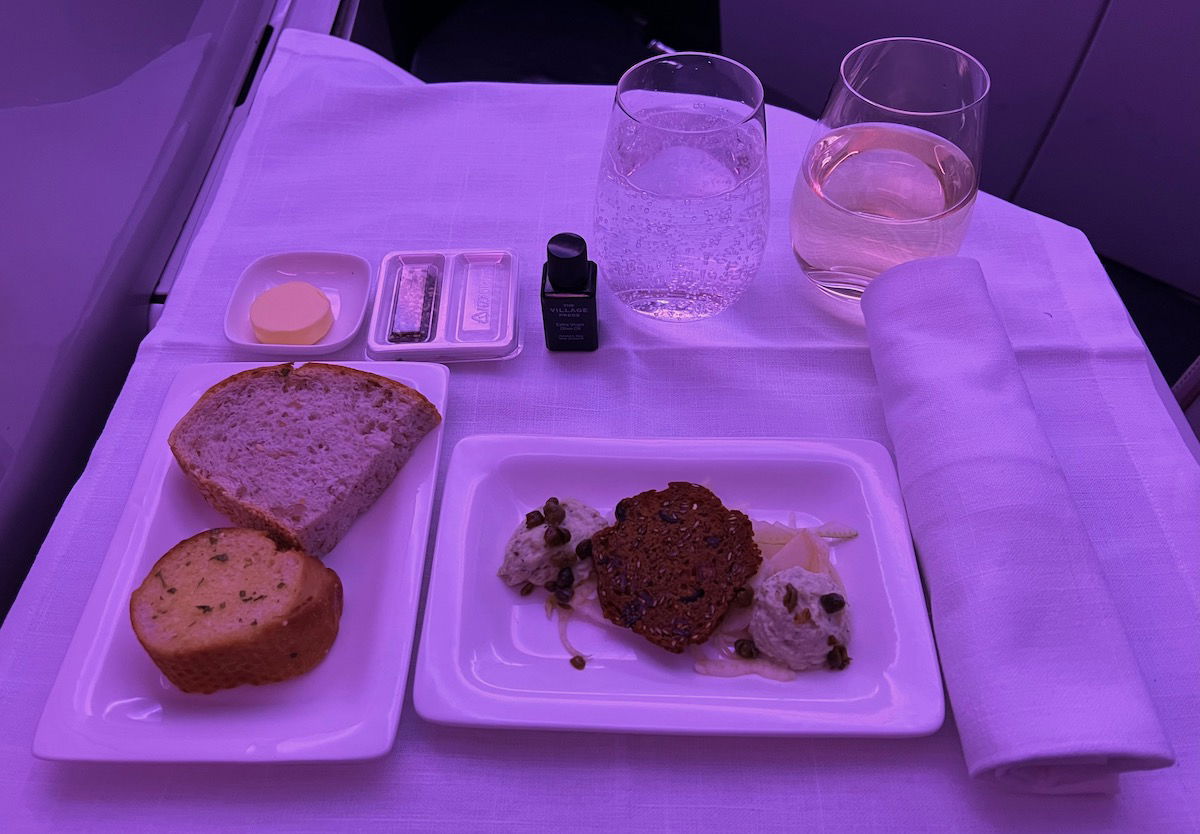 Then for the main course I had the baked salmon with lemon couscous, green beans, and tomato red pepper sauce. This was maybe a bit above average for airplane salmon, but nothing memorable.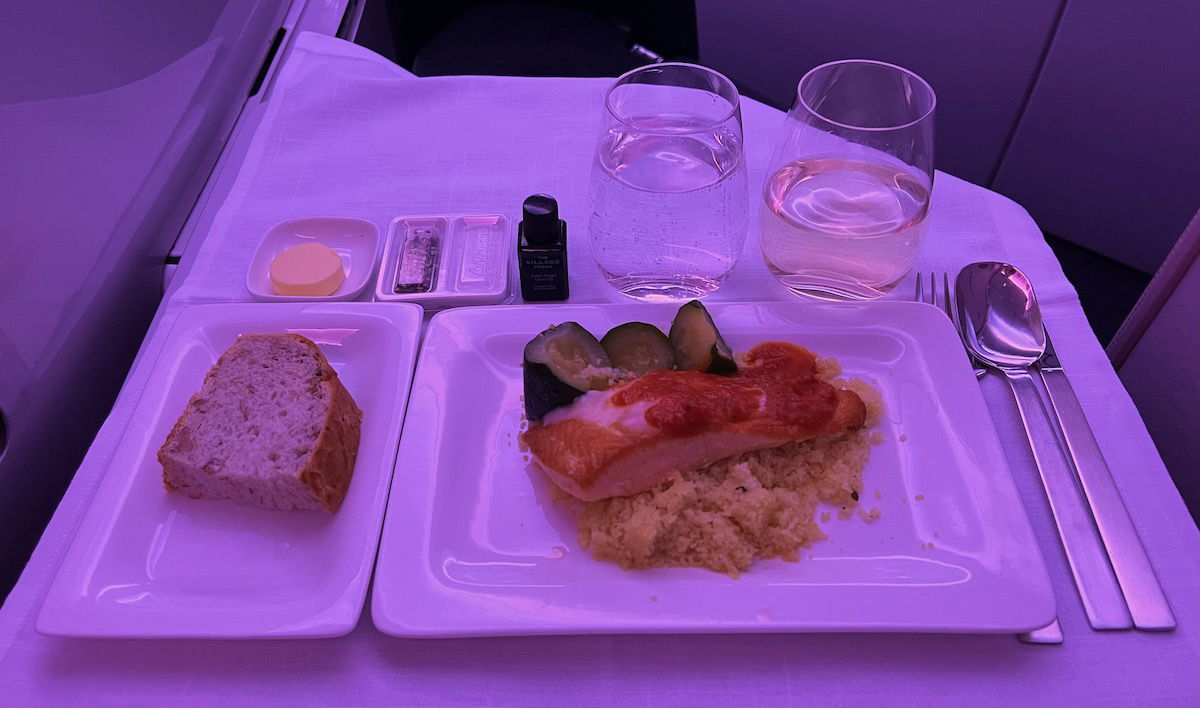 For dessert there was a triple chocolate ice cream with caramel sauce and hokey pokey crumble.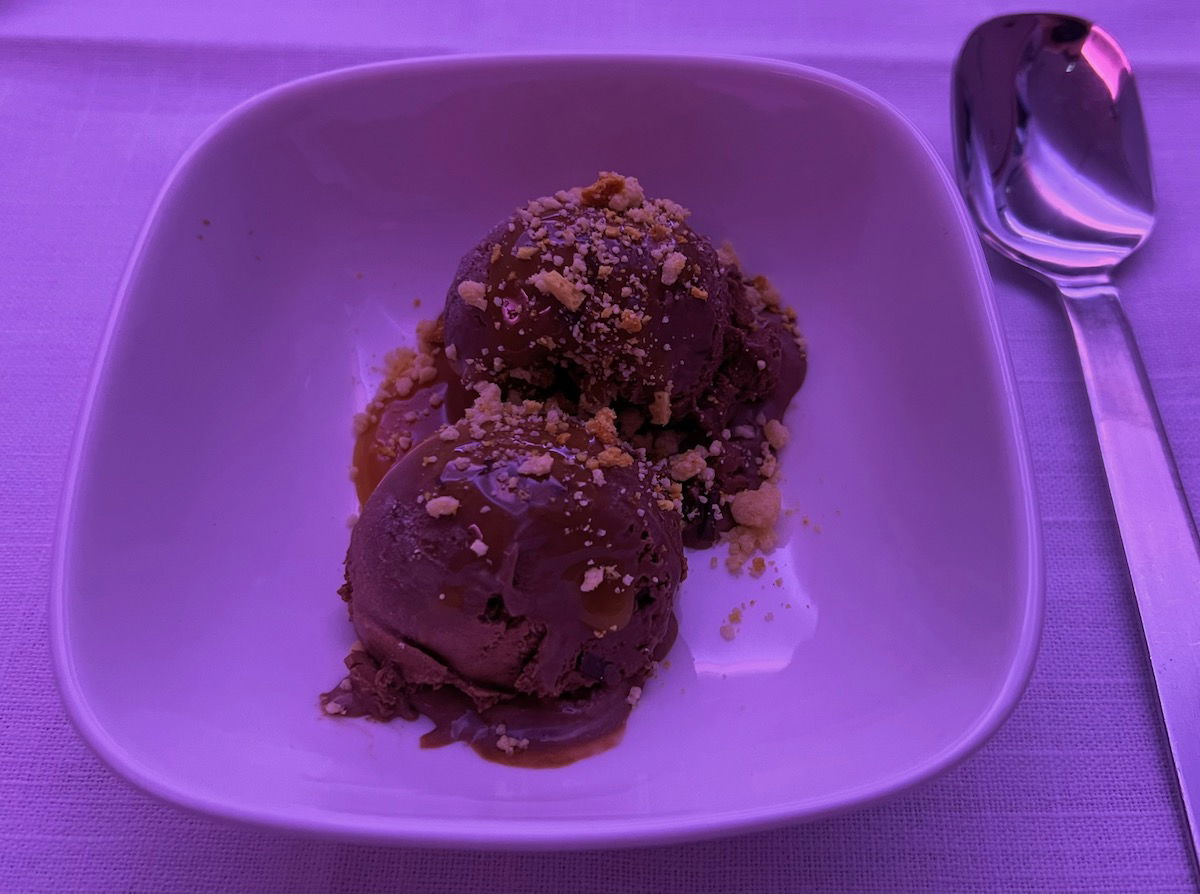 Somehow I can't decide if the service was mostly friendly or kind of stand of fish. At times the flight attendants were nice, while at times they came across as arrogant (at least to me), though on some level I think it may just be a difference in how some Americans and Kiwis communicate.
Then there was the flight attendant who kept commenting on my picture taking. I'm not sure if she was annoyed or trying to be funny, but the constant references to it made me feel kind of uncomfortable in a way that almost never happens (and I both fly and take pictures a lot, for obvious reasons).
Air New Zealand is such a strange airline to me
Air New Zealand is an odd airline to me.
On the one hand, the airline is incredibly innovative. Air New Zealand has amazing marketing, and is known for its awesome safety videos. Air New Zealand has also introduced all kinds of innovative products over the years, from the Skycouch to the new Skynest, which is a concept we've never seen before in commercial aviation.
Yet at the same time, it's 2022, and the best business class product the airline has is herringbone seats, which were first launched by Virgin Atlantic in 2003. Having a nearly two decades old business class product as your "flagship" business class is underwhelming , to say the least. And while this will start to change in 2024, even Air New Zealand's new business class doesn't look revolutionary.
I suppose ultimately Air New Zealand feels it doesn't have to invest that much in its premium product. New Zealand is largely a leisure destination, and most markets Air New Zealand operates in aren't as competitive as New York to London, for example.
If I were to fly to New Zealand again and the current product were still in place, I'd instead choose Air Canada, American Airlines, or United Airlines, since they all have significantly better hard products.
Maybe Air New Zealand is doing all of us a favor with the stingy award availability, as it encourages us to fly other (better) airlines.
Bottom line
I'm happy I had the chance to fly Air New Zealand's Boeing 787 business class, but I don't need to do it again for a long time. Herringbone seats and no Wi-Fi aren't exactly what you'd expect from a solid airline in 2022. Beyond those two points, I'd say the experience was fine, but that's about it.
This has to be one of the least memorable flights I've taken in a long time. New Zealand is an incredible country to visit, though I'll get there on another airline next time.
If you've flown Air New Zealand business class, what was your experience like?